Hottest Tranny Pornstars And Most Popular Shemale Models
These ten glamorous tranny pornstars are the hottest in the world.
That's not just my admittedly fabulous opinion, that's backed up by statistics from the last year from the world's largest porn hub, Pornhub.
I've included where you can find their sexiest scenes and work, but you can see these hot tranny babes on the tube sites for free too.
You may have even heard of a few of them.
The Ten Hottest Transgender Pornstars, Globally
Let's do this…
Daisy Taylor
Right now Daisy Taylor is living in LA California and holds the crown for the hottest Shemale.
Not only has she managed to attract 23.3 million views to her clips on Pornhub, but she's managed to achieve it over only 14 extremely hot videos.
Making love with my beautiful trans wife, which features Daisy Taylor and her equally gorgeous boyfriend has 1.4 million views. It looks like amateur porn and feels very genuine.
Just a horny couple, very in love, fucking in their bed.
Where else can I see her?
TransAngels.com
Daisy Taylor is contracted to the amazing TransAngels. This studio seems to be getting the best out of her too, the trailers for her scenes are absolute fire.
Despite being bisexual, Daisy seems to work mostly with guys and the chemistry she creates is very visible. TransAngels said:
Daisy brings something special to the table. She's not just a pretty face, perky set of tits, and huge cock: Daisy Taylor exudes that indescribable "It Factor" that is so rarely observed but so often loved.
I can't help but agree.
Check out more TransAngels trailers by clicking the banner.
Natalie Mars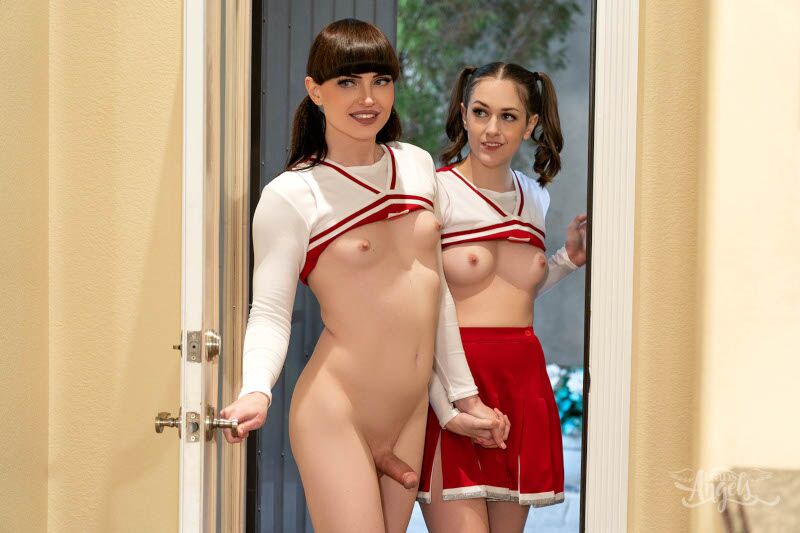 Las Vegas girl Natalie Mars looks like a sexy librarian or a sophisticated uptown wife. However, she is one of the most wanted tranny pornstars. Her long dark hair and pretty, innocent face have drawn many fans her way.
Natalie didn't start shooting porn until she was 31 years old when she started working as a camgirl to impress her fans. In 2016 she won the best new face at the Transgender Erotica Awards and her career has continued to accelerate since.
Where can I see more of her?
TransAngels.com
Although she is not contracted like Daisy Taylor, Natalie has shot 20 scenes for TransAngels.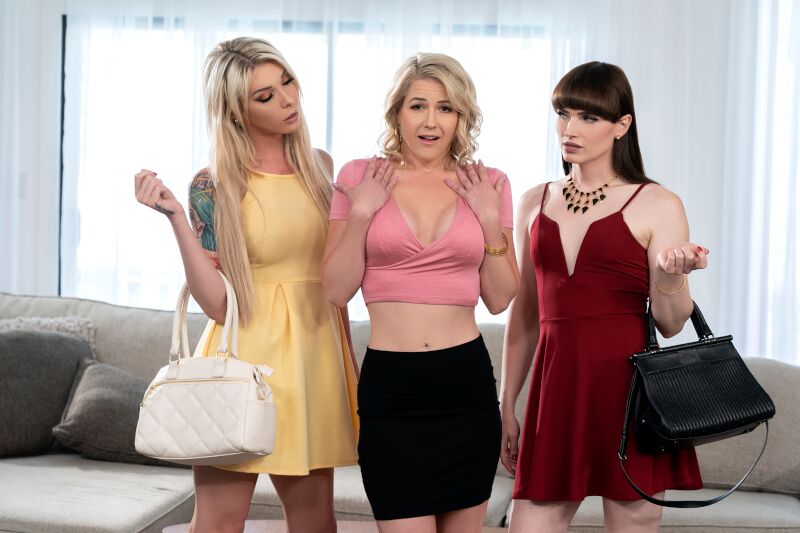 If you're lucky enough to be a member, you'll get to see scenes like all-girl orgy 'Spill The Tea'. Spill The Tea stars Natalie Mars, alongside fellow t-girl pornstar Aubrey Kate and cisgender blonde Kit Mercer.
Pornhub mentioned an interview Natalie gave:
"Her porno dream is to do a scene with her at the center of a gangbang, or even just a blowbang or bukkake session. Whatever it is, she just wants to end up covered in jizz."
Chanel Santini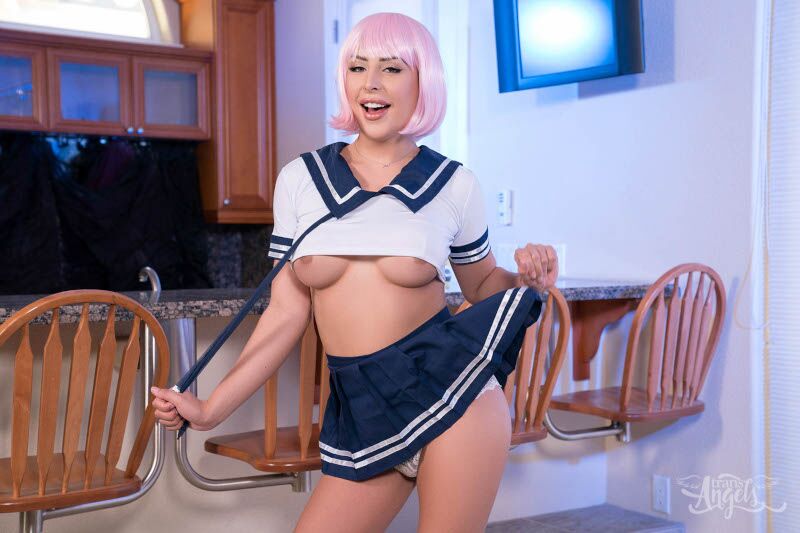 A trans woman from New Mexico, USA, Chanel Santini actually started porn at 18 years old. This is a modern phenomenon as in the past, tranny pornstars would begin transitioning at 18 or maybe a bit older, and not shoot any porn until later on.
However, because the world is waking up more to trans issues and Chanel was already a beautiful young shemale by her 18th birthday.
The gorgeous teen applied to work in porn after seeing an ad online. She applied with a friend, half thinking it was a joke. The rest is history.
Where else Can I See Her?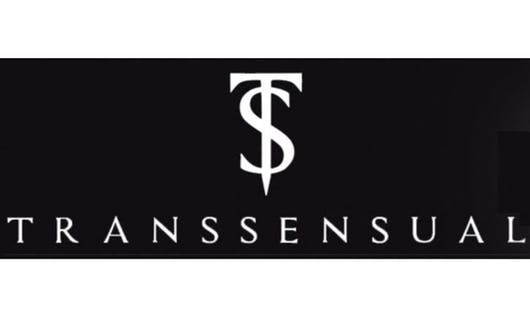 Transsensual.com
Transsensual in Transsensual's own words:
"TransSensual was launched in 2015 to fill a void of high-end transsexual erotica while preserving a mutually respectful way of dealing with transgender performers and fans who are looking for a more sophisticated experience. The stars of TransSensual come from diverse backgrounds, so you will find some familiar faces from other Mile High sites such as Nick Capra or Connor Maguire, and of course the big names such as Jessy Dubai, Sunday Valentina or Aubrey Kate, who predominantly perform on TransSensual."
There are 15 scenes on Transsensual featuring Chanel Santini, including one threesome.
A lucky guy gets to play with Chanel and Aubrey Kate, which takes us nicely to our shemale pornstar number 4:
Aubrey Kate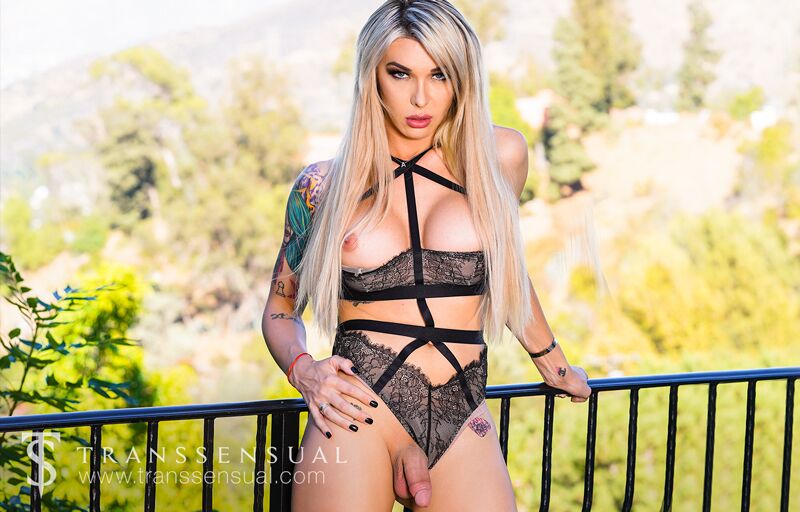 Stunning blonde Aubrey Kate was a model before she was a pornstar. Her long blonde hair and made her popular with photographers. Her fans and photogs bugged her to do porn for a long time and she kept turning down offers.
That was until Kink.com came calling. Since then, she's been the first tranny pornstar to star in a Wicked Pictures film and won both AVN and Xbiz awards.
Unlike lots of tranny pornstars, Aubrey Kate is a straight girly girl who doesn't really work with cisgender women.
She keeps a great blog at officialaubreykate.com, where she keeps her fans up to date with award nominations and new releases.
Where can I see more?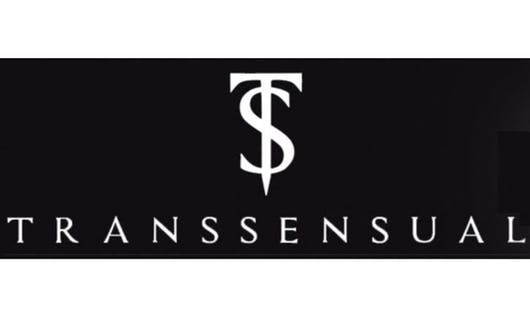 Transsensual.com
It should come as no surprise that this award-winning pornstar would shoot for the classiest name in tranny porn.
You can find 21 Aubrey Kate porn films on Transsensual. The production quality is so high and Aubrey is a natural performer. The camera just loves her.
Bailey Jay
I am a shameless fan of Bailey Jay. She's an unapologetic horny babe with amazing curves, but she's also funny and so damn stylish. If you happen to be on Twitter, Bailey Jay is so worth following.
I would kill to have access to her wardrobe, which includes everything from vintage dresses to sexy lingerie. Bailey has won heaps of awards too, including AVN best performer of the year.
Where can I see her?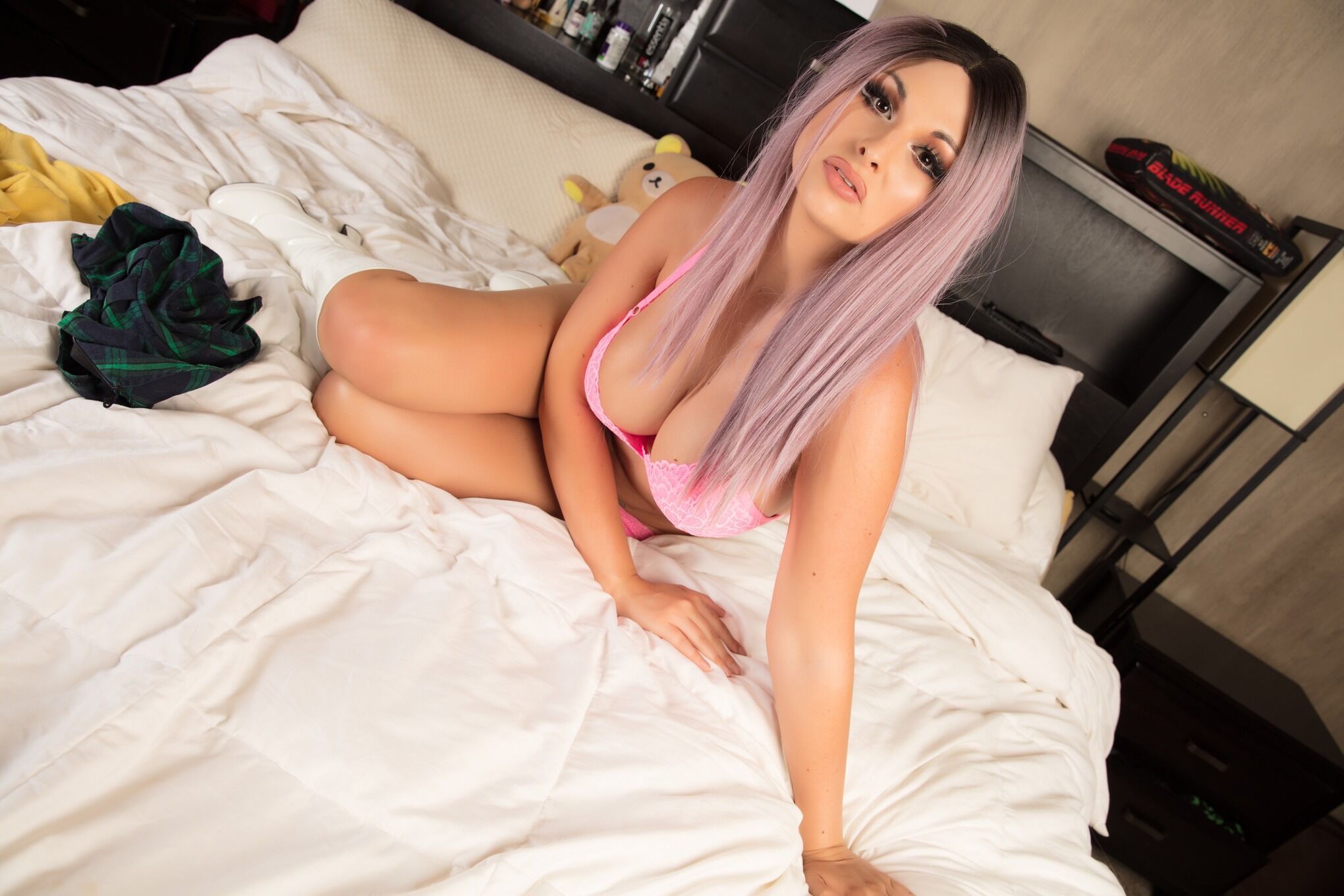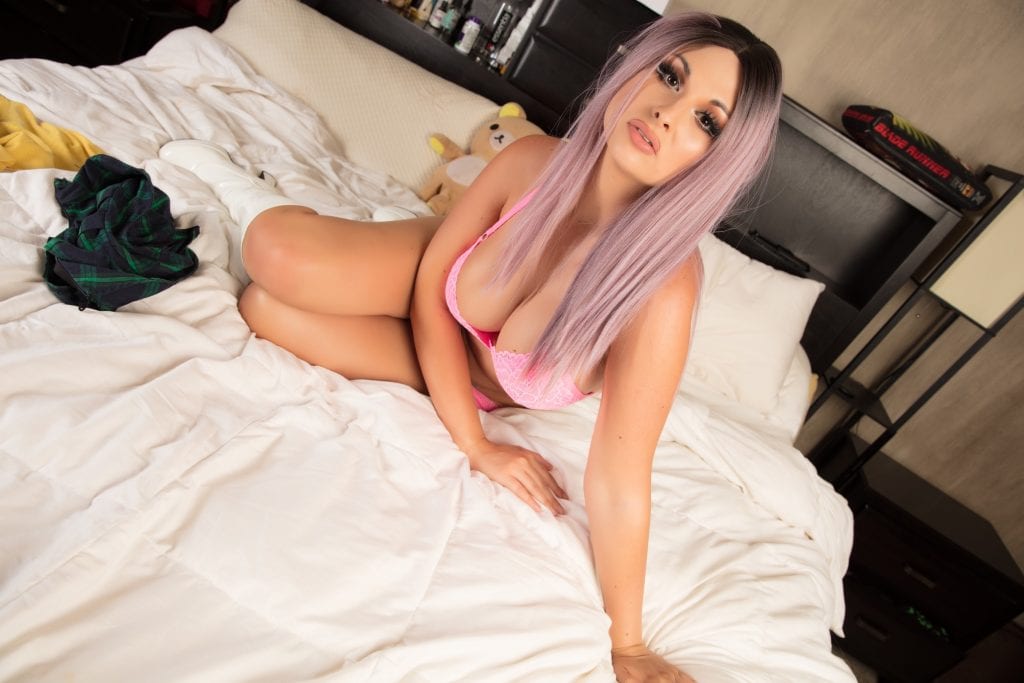 Premium Snapchat
I collected ten of the best shemale premium Snapchat users and Bailey Jay was the undisputed champion of trans premium Snapchat.
For those who have never ventured into the world of subscription social media, premium Snapchat has all of the good bits of adding someone on social media (lots of updates, life insights, daily stories) with all of the good bits of being part of a premium porn site.
Yup, that means nudes, live shows and lots of VIP only sexy fun. That even includes messaging the model directly. Once you add Bailey Jay on Snapchat, you won't go back to other types of porn.
Victoria Gar (Vicats)
Victoria Gar is one half of Vicats, the other half being Milla who is a cis-gendered female. They are two lesbian girlfriends from Warsaw in Poland.
They each have a Twitter account with lots of followers and they seem to be completely obsessed with each other and very in love. Their amateur porn has a cult following on Pornhub, despite neither girl having ever shot for a mainstream porn company.
Where can I see her?
ManyVids
Vicats are the queens of the ManyVids trans section.
Literally. These are two proud winners of the 2019 ManyVids award for trans queen of the year AND trans vid of the year. With 724 people signed up to their MVCrush fanclub, there's a lot of love on ManyVids for this duo.
Ella Hollywood
Blonde t-girl Ella Hollywood is another young performer. At age 20, she's already making a name for herself as one of the hottest trans pornstars to watch.
Like many pornstars, she's moved out to LA so she can easily work with the studios in the area. Although, unlike many shemale performers, Ella is a lesbian. Although she does shoot with guys, she prefers girls.
Where can I see her?
GenderX.com
GenderX.com has this to say about what their site is offering:
"GenderX features premium trans movies and videos of erotic story-driven scenes along with gonzo porn movies. Directed by Jim Powers, watch today's hottest transsexual pornstars like Chanel Santini, Natalie Mars, Aubrey Kate, Lena Kelly, Venus Lux, Casey Kisses and many others paired with cis women, men and other trans stars."
Ella Hollywood has had an amazing scene released here just this month with Ricky Larkin and another coming next month.
Jessy Dubai
If you saw Jessy Dubai out on the streets, you would never guess this girl had a cock in her panties. Originally from Columbia, she now lives in the USA as one of the most popular shemale pornstars.
She's shot porn for lots of major studios, including TS Seduction, Transsensual and Tgirls XXX. Jessy is always looking for new people to work with. If you're hot, kinky and serious about porn modeling with a trans woman, she might want to hear from you.
Where can I see her?
Premium Snapchat
Although Jessy can be seen on many big box premium porn sites, you can really get to know her on Snap, and see her every day.
Exchange pics, get her nudes and get sneak peeks of upcoming scenes.
Venus Lux
Hot Asian t-girl Venus Lux loves to dominate her co-stars. As one of the most wanted TS performers, she's got the world at her feet and she's shot for many of the big names. However, when it comes to creating her own sex tapes, she wants her co-stars to submit to her. Who can blame her, when she looks this hot?
Where can I find her?

Venus-Lux.com
The best Venus Lux porn has always been on her personal site. Venus-Lux.com was a sensational site back in 2013, and it's only got better and more full since then.
Watch Venus fuck her way around the world, enjoying guys, girls, and fellow trans pornstars. There are loads of films here to watch and enjoy, this personal site is well worth it.
Lena Kelly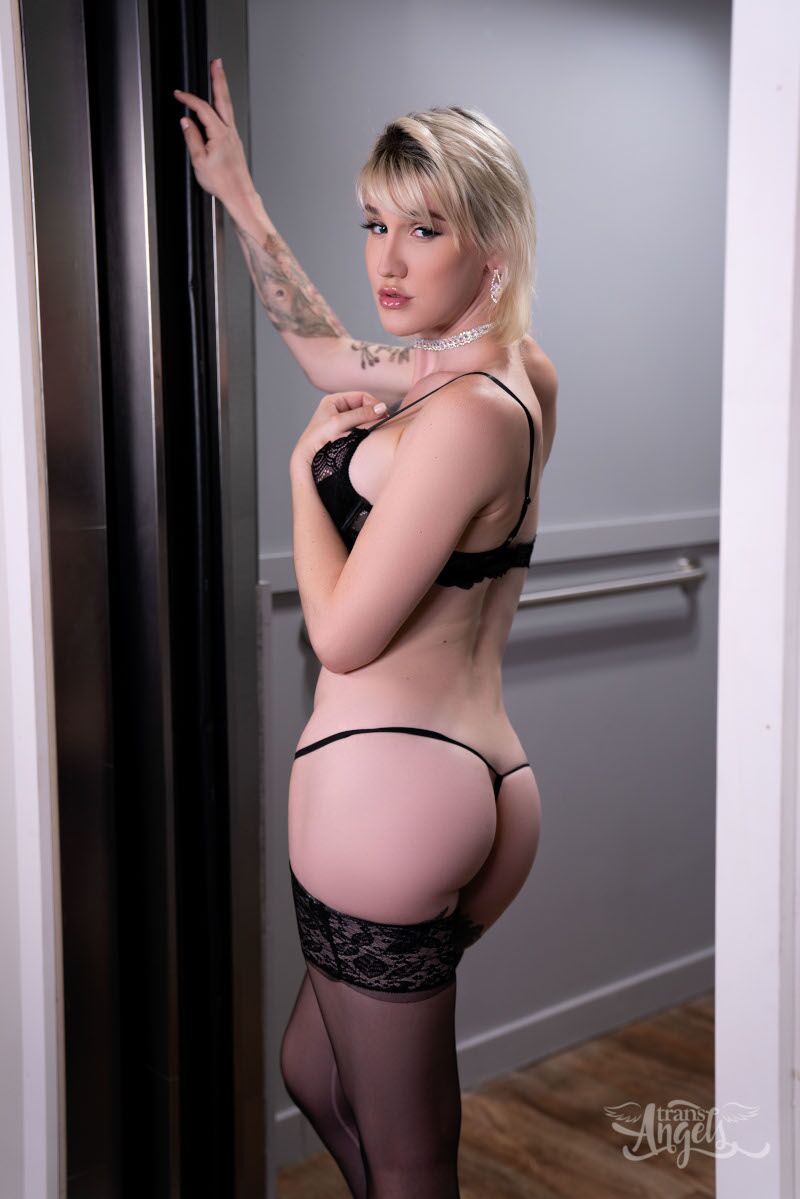 Lena Kelly is a tranny pornstar and director living out of Vegas.
Currently working with Evil Angel as a director, we finish our list with this brunette who looks like the trans girl next door. However, she is anything but.
With 201k fans on Twitter and 97k follows on Instagram, Lena Kelly has earned her place as one of the ten hottest tranny pornstars.
Where can I find her?
TransAngels
Lena Kelly has shot 12 amazing videos for TransAngels, the most recent being released just last month. Lots of her scenes have a BDSM theme to them, her latest being a threesome with a couple where Lena gets nicely spanked by hubby, while his wife watches.
Watch The Hottest T-girls On Webcam
Don't forget to tip… xxx
I hope you've enjoyed this list and have plenty of new places to find porn by the mosy popular tranny pornstars.
Finally, if you're curious about more amateur trans girls than tranny pornstars, take a look at these five solo sites.