Sexiest Pornstars On Twitter – 10 Best Stars To Follow 2023
So you've got your new Twitter account and you've added a few people. But all you've been tweeted so far is advertising and uninspiring one liners.
You're not signing in to Twitter for boredom. These are the ten best pornstars on Twitter for you to follow.
Remember, Twitter does allow adult content and is one of the few remaining safe havens for freedom of expression. Yes, you can tweet your nudes, and these pornstars do just that. So make sure you're not opening your Twitter in front of your boss.
I've carefully calculated the most followed women in porn so you can be sure by following these ten, you're getting the absolute best experience. Expect nudes, gossip and plenty of updates.
10 Sexiest Pornstars On Twitter To Follow
Get ready to make your timeline spicier…
Dick For Lily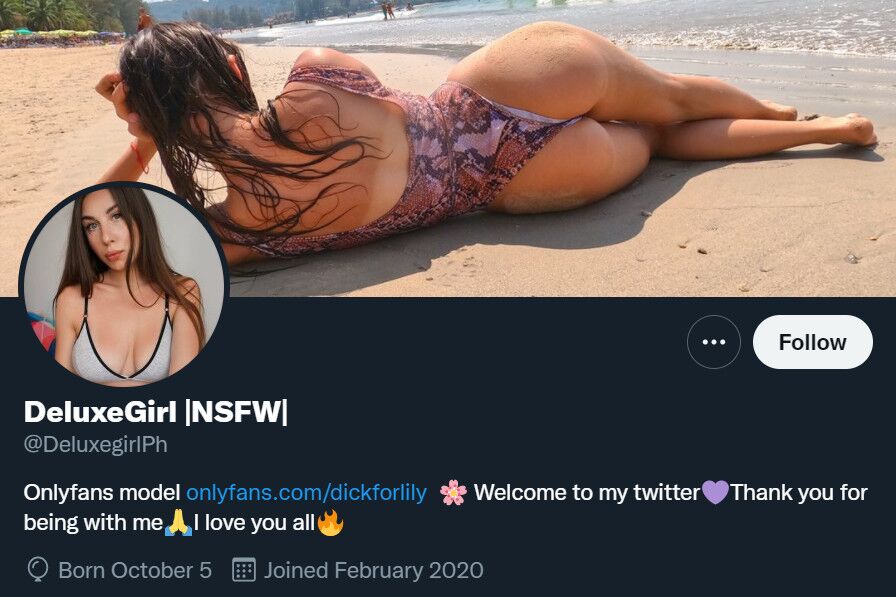 OnlyFans model Lily uses a different handle on Twitter, @Deluxegirlph. On OnlyFans and PornHub, she's known as Dick For Lily. Maybe the dick was a bit much for Twitter. But you can be sure of a luxury Twitter experience when you follow her.
Lily is a pretty girl next door type brunette. Her feed is stuffed with nudes and cute videos and they are regular. Most days have a few updates. Safe to say this is a top quality adult star and a Twitter addict to boot.
She loves the attention her fans give her.
Hong Kong Doll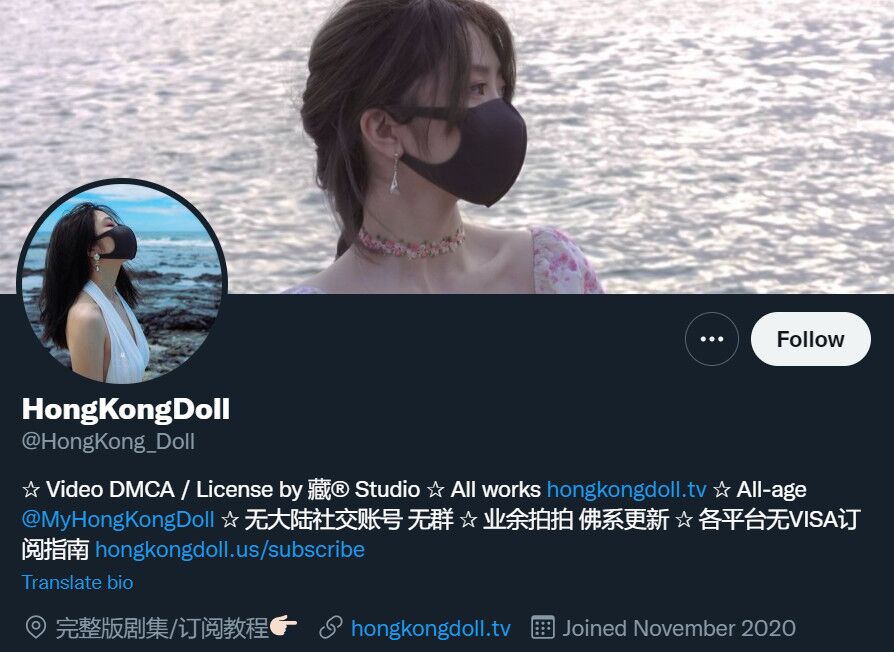 Making the most of the trend for masks, Hong Kong doll is rarely without a cute mask, but she's often without her bra.
Hong Kong Doll has a great sense of fashion and style, which is probably why she's attracted so many fans after only a year on Twitter. It takes more than just a hot body and big brown eyes to reach this level of stardom.
Tweets are often in Chinese, but don't worry, you're not in this for the one liners, right?
Reislin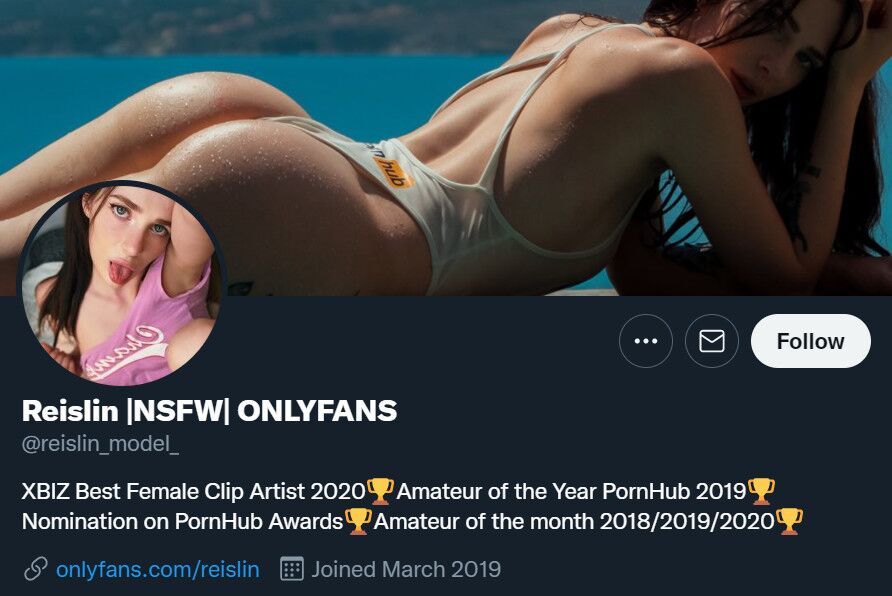 Reislin is a bit of a phenomenon. An amateur model who burst into the porn world in 2018, she started tweeting less than 3 years ago.
Since then, she's won and been nominated for a huge clutch of prestigious awards, including the Xbiz best female clip artist and Pornhub amateur of the year. Reislin has been a busy girl.
Reislin seems to be living her best and horniest life. I love how fun her tweets are, she's a huge star but I'd love to get a cocktail with her.
'
Gabbie Carter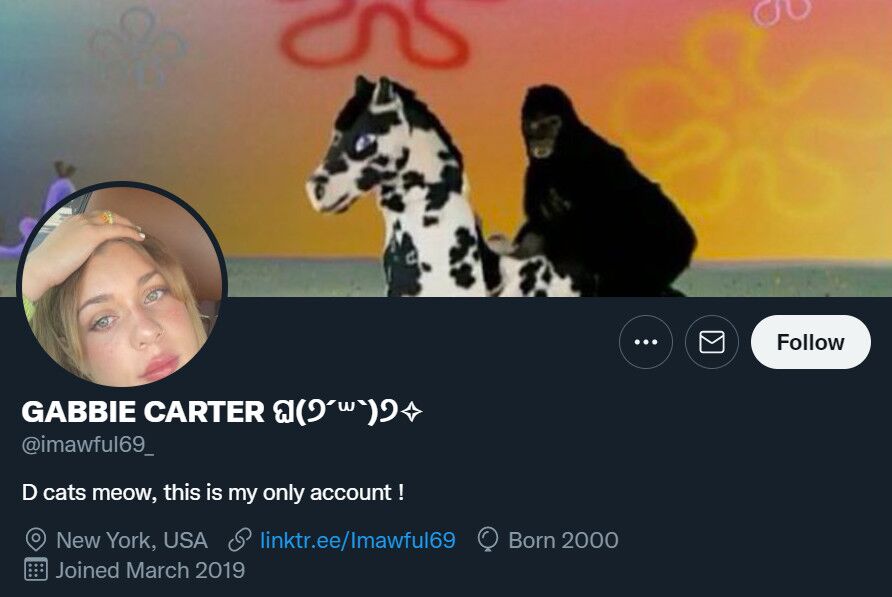 The cats meow, Gabbie Carter has incredible boobs that you're going to want to be seeing a lot more of.
Her content includes cosplay, lots of nudes and naked indoor skating (yes really). Gabbie's Twitter handle is @imawful69_ and I think you'd only think she's awful if you're a Catholic priest because honestly, she's very worth a follow.
Look out for other pornstar friends making appearances on her feed.
Eva Elfie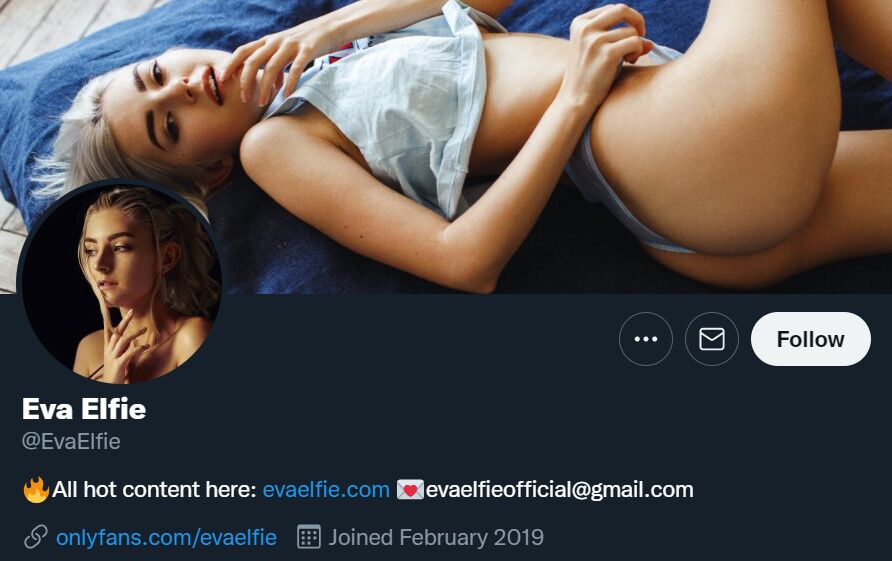 Blonde beauty Eva Elfie has the innocent teen look absolutely nailed. She looks mind blowing in pig tails and shoots often with big studio names like Brazzers.
But she's not neglecting her fans, you can get closer to her by using OnlyFans or you can watch one of her webcam shows on Stripchat.
Nothing is off limits with Eva, don't let her innocent looks fool you. This is one of the most x rated pornstars on Twitter.
'
Mia Malkova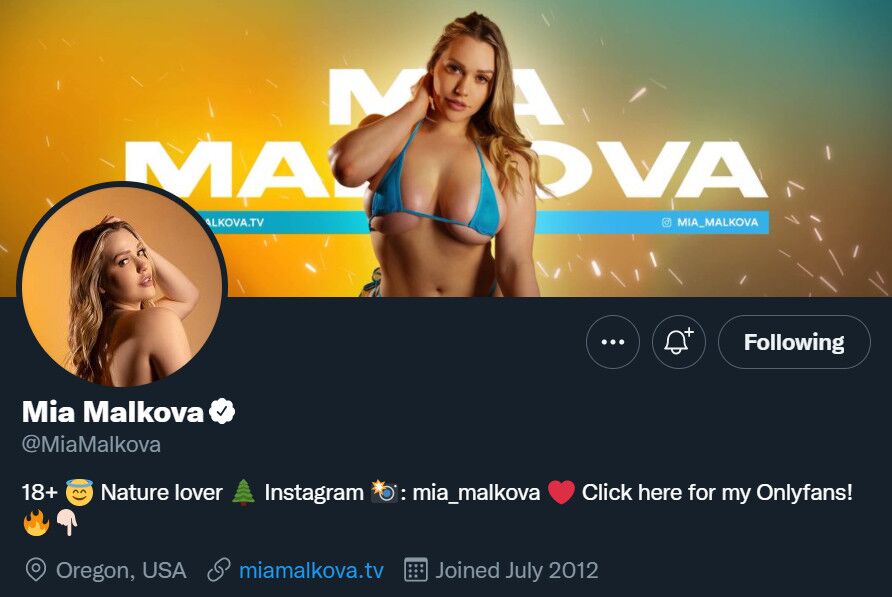 With 2.2 million followers, Mia Malkova is doing something right.
Mia started tweeting in 2012 and has an army of loving fans who give her content thousands of retweets. She's relaxed and chatty and her updates are a mix of modeling shots, teasers for her OnlyFans and life updates.
Mia is a big gamer girl and you'll get Twitch news too when you follow her.
Abella Danger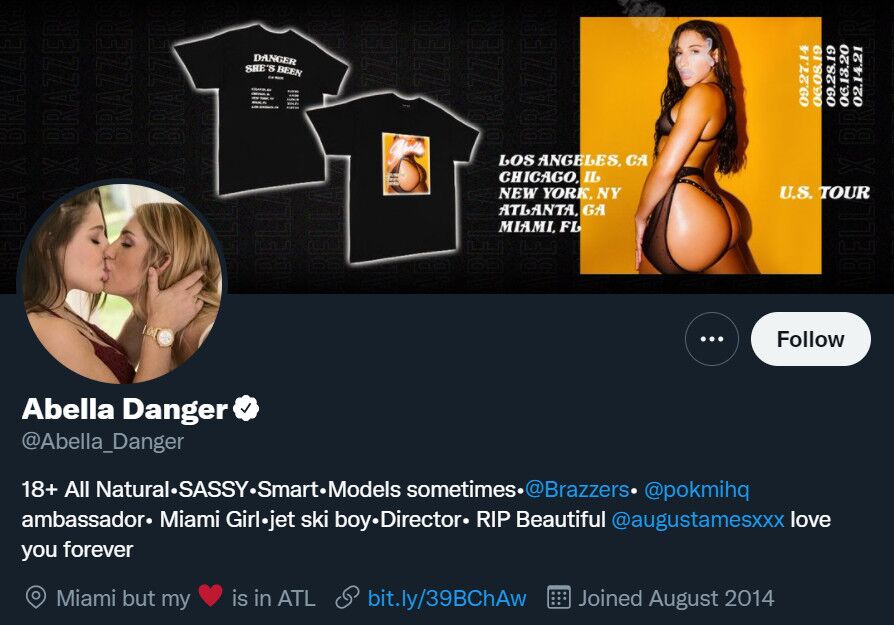 Miami girl Abella Danger is not just an adult star but a director too.
Brazzers love her so much they gave her an exclusive contract and so you'll get plenty of Brazzers news when you follow Abella.
Riley Reid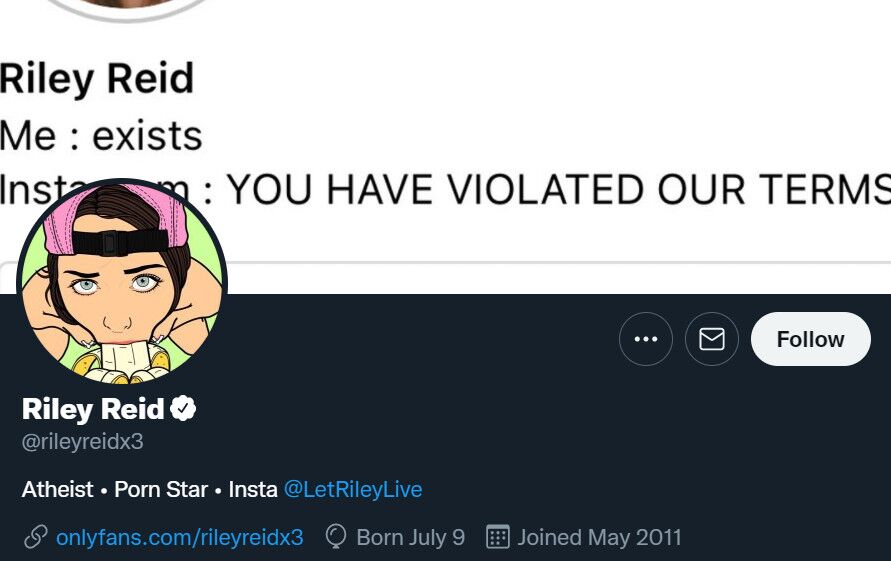 One of the hottest girls in porn, Riley Reid has been tweeting for over ten years and still looks like the cutest thing you've ever seen. It's no wonder she's one of the hottest pornstars on OnlyFans.
This Twitter shows plenty of porn, both home produced and more professional stuff. Expect blowjobs, girl on girl and topless selfies. If you only follow one pornstar on Twitter, it probably should be Riley Reid.
Autumn Falls
These huge natural tits are going to blow your mind. If you haven't heard of Autumn Falls, you're missing out.
This girl loves to be watched and she tweeting those boobs often.
'
Sola Zola
An amateur model looking to go pro, Sola Zola is an Estonian model who has captured the heart of thousands of fans.
Her big brown eyes and peachy round ass will have you following and looking forward to every update.
How Did You Work Out The Best Pornstars To Follow?
I started off with the king of porn data, PornHub, and grabbed the fifty most-watched female adult stars of all time. I might do a separate male pornstars on Twitter list, I don't know. Let me know if you'd be interested in that in the comments. I've already covered BBWs and Trans models.
After I had my top fifty stars, I removed anyone who wasn't working in porn anymore. Surprisingly there were a few. For example, Mia Khalifa is still in the top ten most-watched pornstars despite leaving the adult industry after a year. Lana Rhodes is also no longer shooting adult content.
Twitter lets you know when someone first started their account, so from there I divided the number of followers over the number of years they'd been working. It took some time! But it was worth it. If someone manages to gain 500,000 followers in a year, she's probably more worth your follow than if it had taken ten years.
So you can be as sure as it's possible to be that these girls are the most popular pornstars to follow.
If you'd like to show my site some love, I'd love it if you gave @FanCityX a follow too. We don't have a million fans but we do tweet boobs.
See you on Twitter x x x
These Girls Want To Cum While You Watch
Don't forget to tip… xxx